Get found easily on
G
o
o
g
l
e
Upscale your digital strategy with our SEO services and watch your online visibility soar to new heights
Let's talk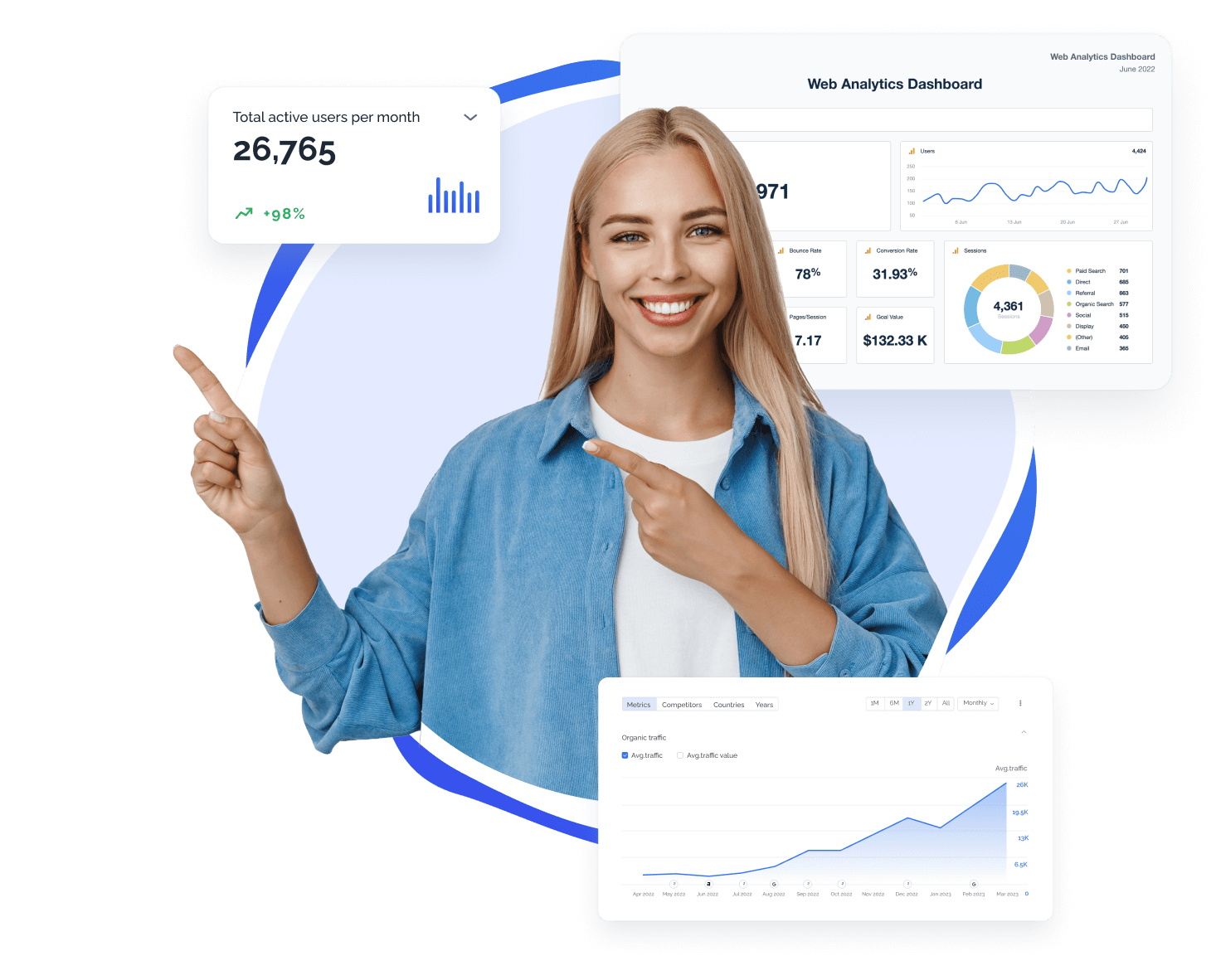 With 15+ years of experience, Crowdo empowers businesses to take their organic traffic, sales, and revenue to new heights.
Our approach is centered around a client-centric philosophy. We focus on your unique business objectives, set actionable KPIs, and tailor our services to meet your specific needs - building the most effective SEO strategy for your business success and growth.
As a results-oriented agency, we strive for measurable success. We regularly provide transparent reports and analytics, allowing you to track the progress of your SEO campaigns and gain valuable insights into your website's performance.Our focus goes beyond traffic generation, encompassing the conversion of visitors into loyal customers and maximizing your return on investment.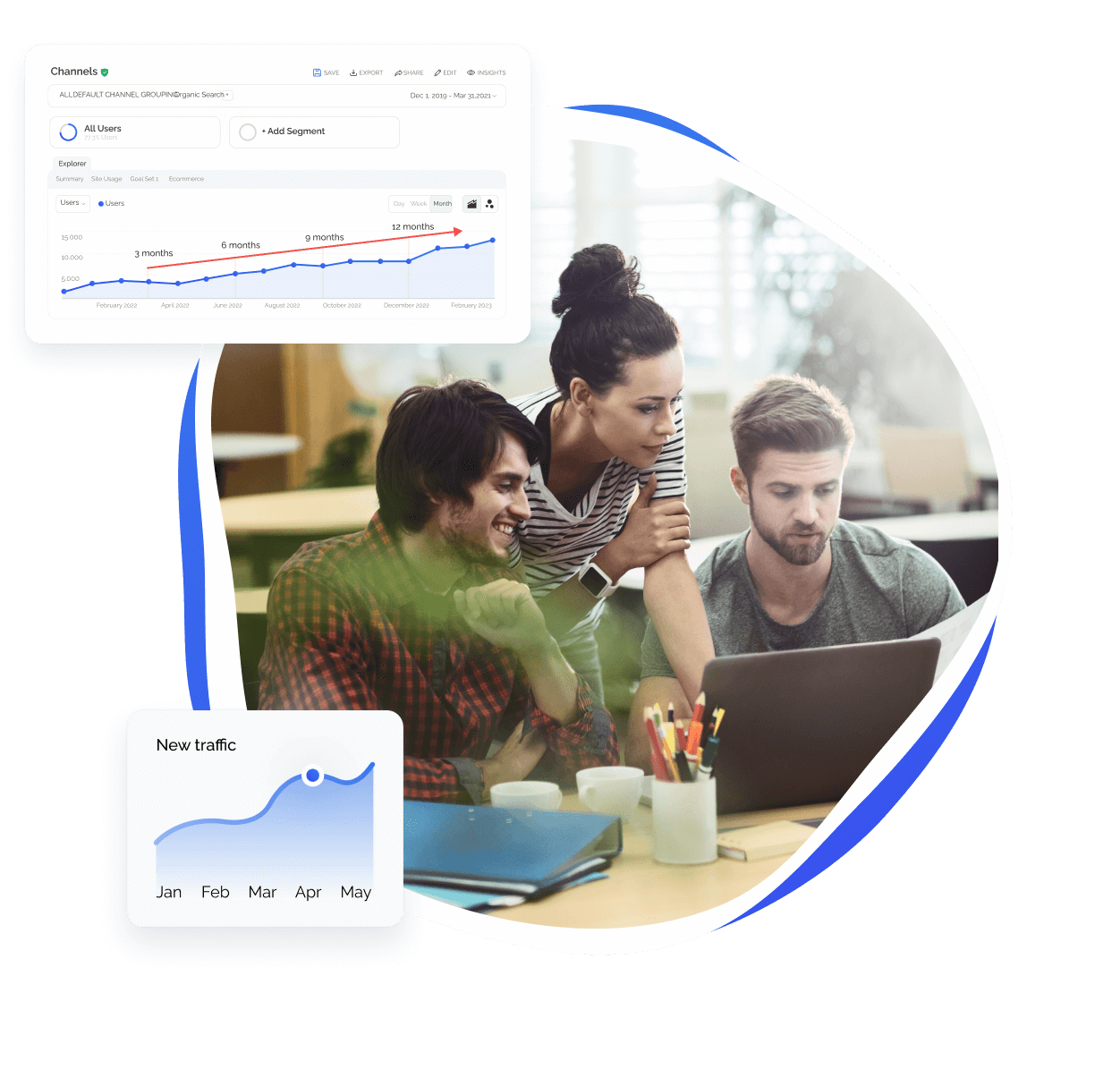 Who Can Benefit from Custom SEO Solutions?
New Projects & Start-ups
Established Business
Site Owners Looking for a Professional SEO Team
SEO Specialists Looking to Scale Up
Agencies Looking to Optimize Their Service Offering
Competitive Businesses with Extreme Advertising Costs
Businesses Looking for Organic Traffic as Main Traffic Source
You Need
Crowdo Custom SEO Solution IF
You're looking for an all-encompassing SEO strategy
for effective website promotion.
Your Traffic Suddenly Dropped and You Can't Find the Cause
You're Searching For Ways to Outrank Your Competitors in Search Results
Your Website is in the State of Plateau No Matter What You Do
You're Keen On Building a Long-term SEO Strategy for Your Business
You're Searching for a Cost-Effective Way of Promoting Your New Website.
You need an influx of fresh leads and new sales
You want to boost your brand awareness and authority online
You want to Get Your Site to the Top of Google Search Results.
What we offer
We cover the full range of SEO Services for optimal website promotion and increased online visibility through powerful digital marketing tools and services.
Technical SEO Optimization
Developer for On-Site Fixes
Custom Link Building Strategy
Content Management
Reputation Management
Monthly Progress Reporting
Personal SEO Account Manager
On average, outsourcing your SEO to an agency is 70% more cost-effective than having your own in-house team.
Why Choose Crowdo over an In-house SEO Team or Freelancers?
Custom SEO Package with No Hidden Fees
Get your turn-key strategy and all the backlinks you need in one cohesive custom package - a 100% transparent pricing model tailored to your unique business needs and marketing budget. Our customers enjoy high-quality SEO services without breaking the bank.
Cost-Efficient and Optimizes Bottom Line
Optimize your business expenses with a one-stop SEO solution without spending money on individual SEO tools and software or renting an office space to host a team of SEO specialists. Crowdo has both for a successful promotion of your website, allowing you to focus on your business goals.
Get Top Talent without Tedious Training
With Crowdo, you get a personal expert team of SEO Analysts, Technical Specialists, and Link Builders with 15+ years of combined experience and proven success cases in SEO - no need to hire and train an in-house SEO team or get multiple freelancers on your payroll. Our top talent is now yours to champion your website growth.
Optimized Work Processes, Expert SEO Team
Our team has worked on thousands of cases of varying degrees of SEO complexity. We have perfected our approach to solving SEO cases by using streamlined processes, technology, tools, and data analyses to know precisely how to pick up your site in any condition and turn it into a success. Our experience and competence are earned, not bought.
Scale up Your Marketing Operations with Ease
Whether you're looking to expand to a new market or promote a new project online - our team will give you the strength and the numbers to tackle any new challenge. We have long-established relationships in the industry, connections, and talent for the continued scaling of your digital marketing efforts.
Broad Niche and Market Experience
Hiring an individual freelancer or searching for multiple professionals to make up an SEO team usually results in a narrow level of SEO expertise. Crowdo provides a multi-faceted approach to SEO, with integrated teams and an established knowledge base covering all aspects of website promotion. We understand the importance of nuance in individual cases and business niches.
Why Choose Crowdo as Your Trusted SEO Partner?
Over $1 373 823 in Revenue Driven for Our Clients
Over 3,440 Completed Projects
350% Average Client Traffic Growth
Experience in over 100+ business niches
1M+ search queries we got in Google's TOP10
Certified Google Partner
15+ Years of Combined SEO Experience
Proven Track Record with Successful International Projects
Services covering any niche, any market, and any language
Satisfied customers from all over the world who recommend us
We create workable strategies based on your unique business needs
Personal SEO Team - 5-10 specialists working on your project
Free Consultation with
Our SEO Expert
Identifying project needs. Discussing the case, goals, objectives, and deadlines. Free SEO Audit and Competitor Analysis. We review your top niche competitors and identify their top-performing pages and the key factors necessary to outperform them in SEO.
Developing Your Custom
SEO Strategy
Comprehensive SEO Audit, including technical website analysis, deep niche, content, and semantic profile review. Building a tailored link-building strategy based on the Audit results.
Strategy
Implementation
We kickstart your SEO journey with critical technical optimization, powerful link building and indexing, custom content plan, and reputation management.
Site Progress
Monitoring
We provide monthly progress reports, regularly review your SEO results, and monitor your site growth by providing timely strategy adjustments and recommendations.
SEO
Results
Reaching set objectives, continuously reviewing your strategy, and perfecting SEO results for sustainable website growth.
Crowdo Pricing
The cost of SEO largely depends on your unique business needs, the size of your company, the overall condition of your website, trends in the niche, region, and several other key factors.
Each business is unique and requires a tailored solution to address all of its challenges.
The price range for our SEO services in 2023 may vary between $500-$10,000 per month, depending on the project budget, complexity, scale, and set objectives.
Schedule a Call
Book an appointment with our SEO Expert to discuss your case and learn more about SEO pricing, including industry averages.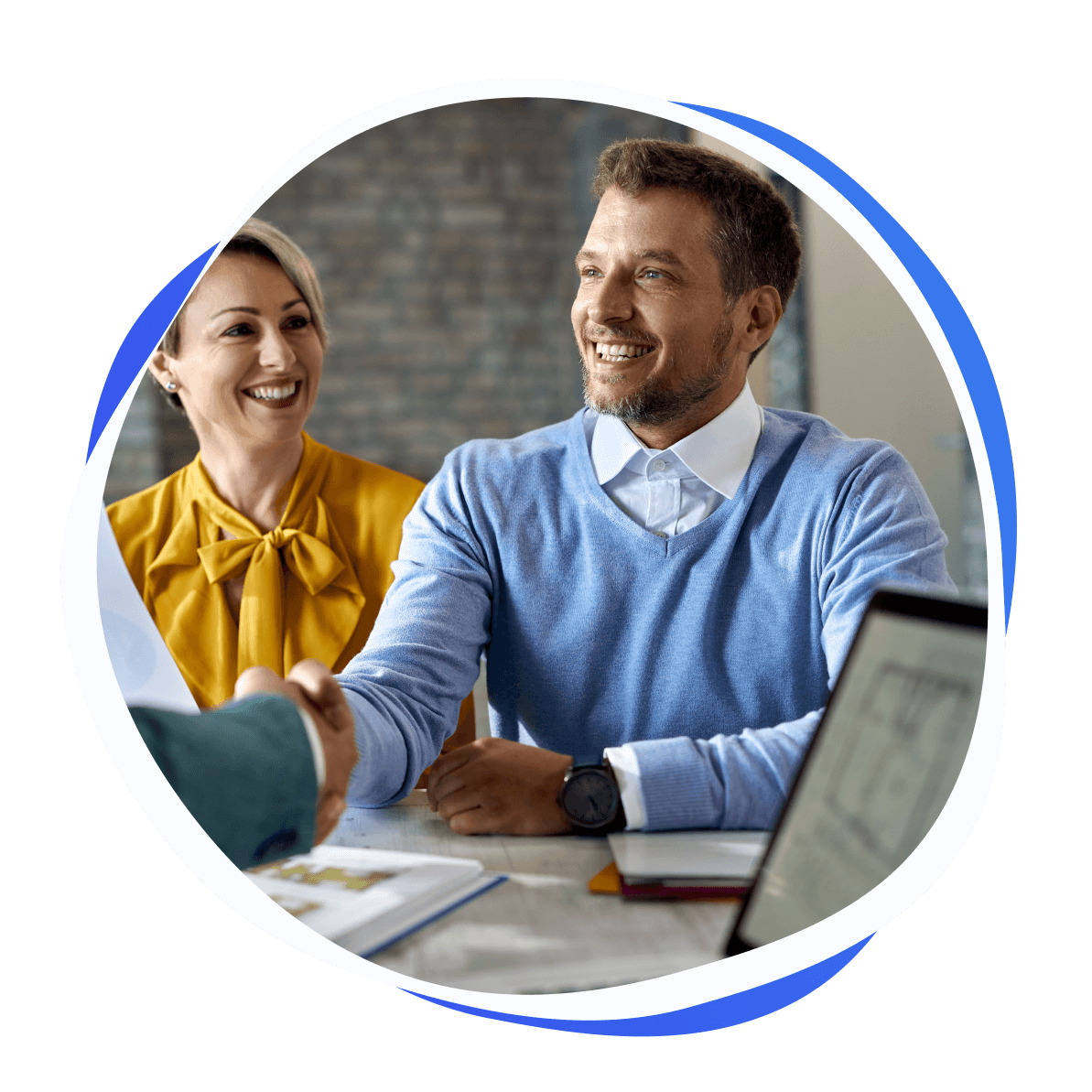 FAQ
When will I see the results?
Most of our clients will see results about 3-month in of our minimal contract period. We can continue adjusting your SEO strategy to drive more traffic and growth to your website.
Do I need any prior experience in SEO to work on my strategy?
You don't need any expertise or knowledge in SEO. We will do all the work for you, and send you regular reports on all the necessary metrics to monitor your results. All you need is to process the incoming leads and clients coming your way.
Can you make an individual SEO strategy for my website?
That's what we're here for! We will craft a tailor-made solution specifically for your business needs.
Do you work with every niche?
Yes, we work with most niches and languages. Some exceptions apply. Please inquire about your niche with our SEO Expert.
Do you work with languages other than English?
Yes, we can provide links in any language from local sites, including German, French, Italian, Spanish, and others. Only native-language content.
How often will I receive SEO performance reports?
We provide comprehensive performance reports every month. If you want to see the numbers more often, you always have access to your personal account, where you can view data in real-time.