As you might have heard from our email newsletter, Crowdo is no longer just a link-building partner. Instead, we have transformed into a full-stack SEO agency, where everything is done for you. Today we just want to share a case study from one of our clients, who recently ordered a full stack SEO service from us.
Introduction
Our client offers coworking spaces in an Asian country.
We've already cooperated before, to be precise he purchased several Crowdo Links packages from us.
Yet, on a global level there was a "go with the flow" approach rather than a clear-cut SEO strategy.
This has changed when that client ordered an SEO audit from us.
Procedure
As you know, SEO is a multifaceted process where a lot of things can make a massive impact.
We started by reviewing the website structure and usability. We were able to find at least 8 major and 13 moderate issues that were prevalent at the time of Page Experience Update.
These issues included mobile responsiveness, redundant elements and ambiguity in website structure.
Our specialist was able to uncover a few staggering technical issues that form a bottleneck when it comes to page load. These include redundant code, heavy JS and unnecessary WordPress plugins. Combined, the website was loading 50% slower than it should!
The content of the website was reviewed and a number of improvements were suggested, including proper meta descriptions, use of target keywords and content length.
Now comes the fun part… off-page SEO. We have reviewed the key competitors of our client and formed multiple hypotheses on how they were able to rank their pages high in Google.
Kind of backlinks that they build
Link velocity and link pacing
Median number of referring domains
After combining these findings with our own experience, we were able to propose a 3-month link building plan, divided into 3 stages.
In order to succeed, the backlink profile should have both authority and diversity.
Therefore, we've built multiple kinds of backlinks for that client, including guest posts, forum links and quora & reddit links.
Just take a sneak peek at the screenshots to see what we're talking about.
Note: the domain name and keywords were hidden for privacy purposes.

This is the pre-report, that contains all guest post links
All of the guest posts were published on niche-relevant blogs with an average DA of about 60.

This is the pre-report, that contains all Crowdo links
As you can tell, the metrics of these websites are more than good. Not only these backlinks will contribute to the diversification of a backlink profile, but also transmit a significant amount of link juice.
We like to keep things natural and organic, which is why we've kept a 50/50 proportion of nofollow and dofollow links.
Results
During these 3 months of hard work, we were able to achieve some astonishing results.
We've started working around January, and you can see our progress on the screenshots below.
Note: once again, we won't be able to reveal our clients' keywords and domain name.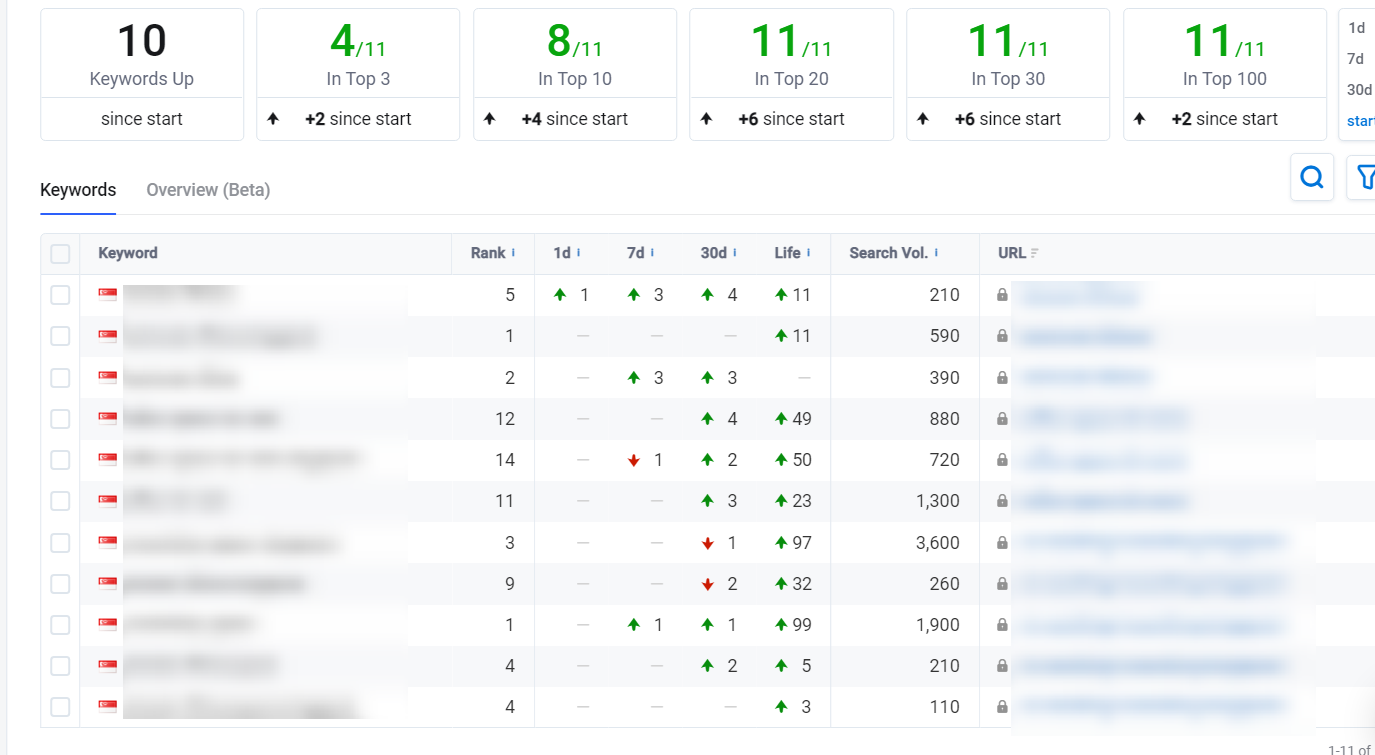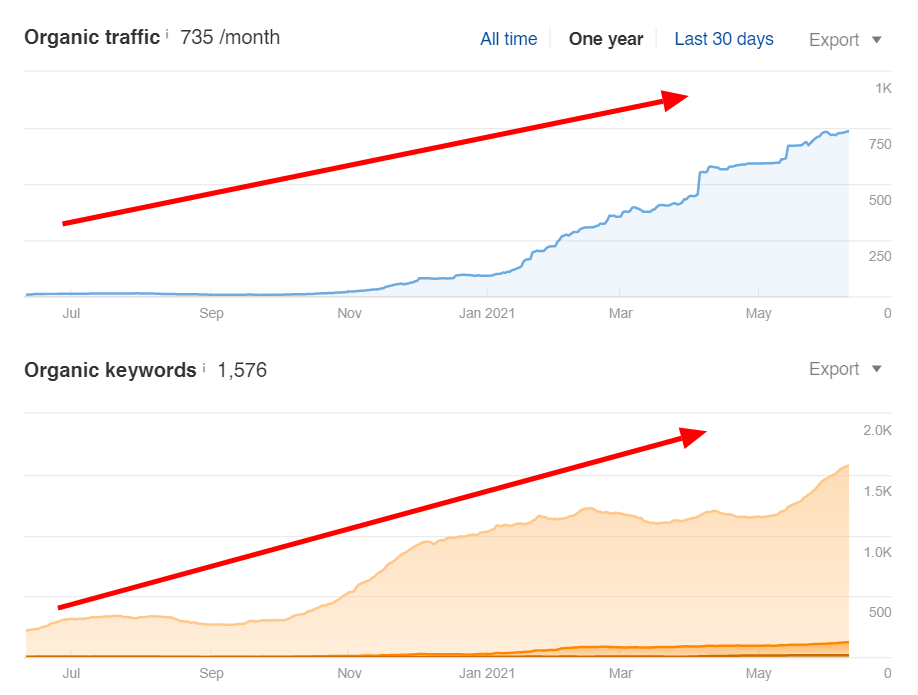 As you can tell, the website ranks higher for a lot more keywords with a significant search volume and high keyword difficulty. For this reason, the website in question has also seen a 400% increase in organic traffic from about less than 200 visitors monthly to almost a thousand. Both traffic and keyword ranking follow a positive trend and keep growing, despite all of the Google updates.
Client Testimonial
"Crowdo has been great. I grew 0 to 1000+ monthly traffic and now rank #1 for some of the keywords in my niche. The support team has been responsive to my requests and questions. Overall the experience has been positive and I can totally recommend working with guys from Crowdo."
Conclusion
Throughout the years we've had a lot of clients from all kinds of niches.
Right now we're confident that we can handle each and every SEO project with ease.
Now, if you want to stop wasting time figuring out how to do things right and want to outsource it to professionals- you've come to the right place!