Our client is an emerging erotic portal in the Austrian and European markets. After some initial marketing efforts, they realized what the real barriers to their digital growth were – starting with technical inefficiencies of their site, an overly complex website structure, and off-site issues that hurt their online visibility.
Initial Expectations and Planning
Our partnership with the site began in April 2023 with the task of developing an SEO strategy designed specifically for them. After all, each service and industry has unique needs, both in terms of website design and link-building. As we worked on this plan of action after an initial audit, their team got to work on their site, and by May, we started a fully managed SEO had launched our link-building campaign.
Deep-Dive Technical Audit
Our initial step was conducting a thorough technical audit to see how their website could be optimized for the best user experience and fixing the main technical issues:
Duplicate Content – The site's architecture had created a web of duplicate pages that diluted its SEO presence. Multiple identical pages meant search engines were spreading ranking power thinly rather than concentrating it on a single, authoritative page, meaning our client barely popped up in any searches.
Redirect Issues – The website was accessible both with and without the 'www' prefix, causing a split in domain authority. Having two identities at once, it confused search engines and weakened the site's ranking potential.
Canonical Tags Confusion – These tags, which should guide search engines to the primary content, were misdirected to a different domain. This error was essentially giving away their SEO value to someone else's site.
Lacking Micro Markup – Missing schema markup meant the site wasn't very "readable" for search engines, which led to unused SEO opportunities that make listings more attractive and informative for users in search results.
Recommendations and Solutions
After gathering enough insights after the initial audit, we came up with a targeted plan to fix these issues:
Streamlining the Website's Structure – We recommended a reorganization to eliminate redundant content and duplicates, consolidate pages where possible, optimize images, and make sure that search engines had a clear picture of the content, listings, and descriptions to improve rankings.
Redirect Overhaul – We set up multiple redirects to funnel traffic to a single, authoritative URL, which helped us strengthen the domain authority and eliminate confusion for search engines and users.
Canonical Corrections – In order to protect our client's SEO value, we realigned the canonical tags to point to the correct domain.
Improving Results with Schema – We suggested our client implement schema markup, which would help search engines characterize and categorize the content on the website, improving visibility and click-through rates.
Link-Building Strategy
While the site's internal issues were being fixed, we started working on an external link-building strategy – we identified and created content for relevant, high-authority sites to build backlinks, which basically act like endorsements. These are necessary for improving the credibility and search ranking of a website in the eyes of search engines and regular users alike.
Continuous Monitoring and Reporting
Throughout the process, we kept the site in the loop with detailed progress reports, highlighting the positive impact of our efforts on their search engine standings. We've also constantly taken feedback from their team, including developing new content together and pitching new ideas for their website.
Our Results
Correcting the technical issues led to a sleeker, more navigable website, which search engines could easily index and rank. The internal structure was improved, pages and internal links became much easier to find for users, and images could be viewed in higher quality without sacrificing loading speeds.
X21 times rise in organic traffic!
As for our off-page work, the result was a dramatic X21 times rise in organic traffic between April and November, as measured by Ahrefs. With an increase from 71 to 1 643 in just seven months, our work began to pay off.

And here's the dynamics from the GSC performance report:

476% increase in the number of organic keywords!
The site began ranking for a wider array of search terms, with an 476% increase in the number of organic keywords, from 264 to 1 523, making it vastly more discoverable.

Increased Traffic for Target Keywords
Our client's most desired keywords, as per their industry and location in the middle of Europe, saw a great increase during these seven months, meaning their website reached beyond their initial target audience.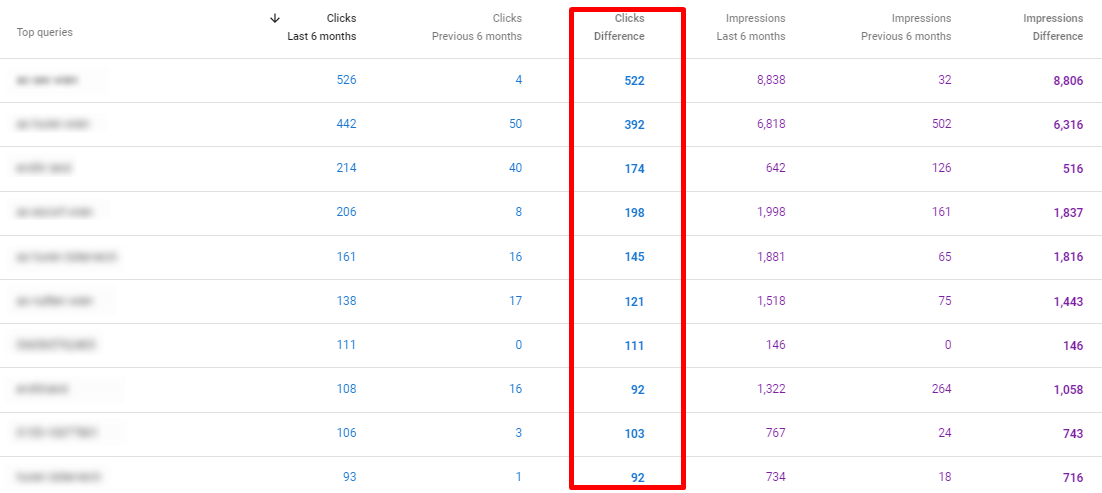 Last but not least, thanks to our ongoing link-building efforts and a constantly evolving strategy, we can still see a gradual increase in backlinks to the client's website. This is important for two reasons – it helps increase rankings in search engines and improves the overall visibility of the site for users who wouldn't normally stumble upon it organically.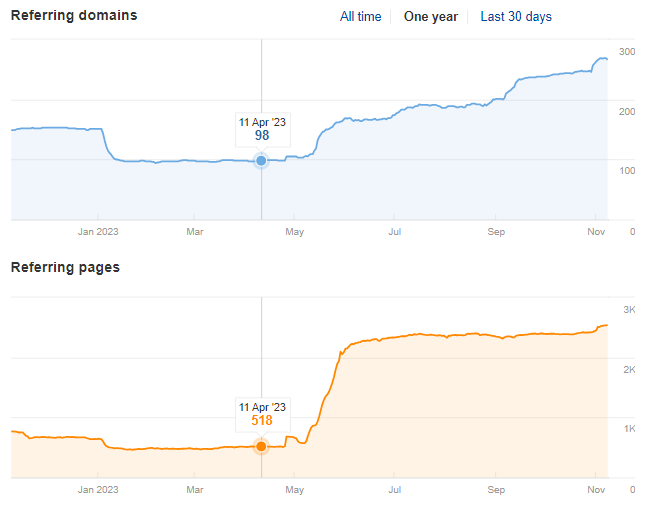 Our Ongoing Collaboration
We're not done yet! Our partnership with the client is ongoing, and we're dedicated to continuously adapting and refining our strategies to help them grow, both locally and outside of Germany, and make their presence felt in their industry.
Final Words
Our collaboration with the client's site has proven that SEO isn't just about fixing technical issues and generating links – it's also about rewriting the narrative around a company. By pinpointing essential problems and launching a strategic SEO campaign, we've helped them achieve significant growth in both traffic and search term rankings. With regular progress reports, feedback from both their IT staff and business department, and our work on a flexible and sustainable strategy, our client has all the tools they need to become a big player in the bustling online adult entertainment landscape. We strive to work with any client, regardless of budget, size, and industry, to help them use SEO to their advantage and flourish.