In this report, we will delve into the complete Full Stack SEO services provided by Crowdo to our valued client, an Organic & All Natural Superfoods Manufacturer. Our mission was to improve the website's visibility and increase organic traffic, as well as improve conversion rates and ROI.
Our Roadmap
Client's Objectives
Increase Organic Traffic – They needed to boost the number of visitors coming to the website through organic search results.
Improve Search Engine Rankings – Enhancing the website's position in search engine results pages (SERPs) for specific target keywords was also a priority.
Enhance Conversion Rates and ROI – Ultimately, the client hoped to convert the increased traffic into higher sales and improved return on investment.
Our collaboration with the client began in February 2023, starting with the evaluation of their existing digital presence and SEO performance. We then started working on a strategy to improve on these aspects.
Addressing Technical Issues:
The client sought our SEO Strategy services, and we began by conducting a detailed website audit. This audit uncovered a series of critical technical issues that were hampering the website's optimal indexing and visibility in search engines. Some of these included:
404 Error Pages – Numerous pages with 404 error statuses indicated a poor user experience and potential loss of valuable traffic.
Unoptimized Images – These were negatively impacting the site's loading speed, a key factor for both user experience and search engine rankings.
Technical Pages Open for Indexing – Several technical pages were left open for indexing, leading to duplicate content issues that could hurt SEO rankings.
Unoptimized Meta-Tags – An essential element of on-page SEO, these tags were not adequately optimized for relevance and search engine visibility.
Incomplete Basic Redirects – When not set up correctly, these further contribute to user frustration and SEO issues.
Recommendations and Solutions
Based on the results of the initial audit, we came up with a set of recommendations and implemented some fixes, which included:
Rectifying 404 Errors – By identifying and fixing broken links and implementing proper redirects where necessary, we corrected most of these issues.
Image Optimization – We optimized images across the site, which not only improved loading speed but also made the overall user experience better.
Preventing Indexing of Technical Pages – To avoid duplicate content issues, we made sure that technical pages were not indexed by search engines.
Meta-Tag Optimization – We made sure that meta-tags were well-structured and relevant to the content, increasing their effectiveness in attracting search traffic.
Improved Basic Redirects – We set up and fine-tuned basic redirects to ensure a smoother user experience.
Link Building Strategy
We also developed a link-building strategy to create a strong backlink profile, which is a key factor in search engine ranking algorithms. Our approach focused on:
Identifying Key External Resources – Authoritative external resources related to the client's industry are essential for building high-quality backlinks.
Actively Pursuing Backlinks – Through outreach and content collaborations, we started enhancing the client's link profile and search engine authority.
Monitoring and Reporting
Throughout this process, we worked closely with our client, creating regular reports about the progress, the results, and the effectiveness of our actions. The client was continuously informed about the project's status and outcomes and could comfortably give us feedback on our work.
Results
Organic Traffic Increase
According to Ahrefs, the client's organic traffic stood at 10,782 visitors in February. By July, this figure had risen to 18,031, meaning a remarkable 67% growth. This increase in organic traffic meant our strategy was successful in attracting more visitors to the website through organic search results.

Growth in Organic Keywords
We observed a significant increase in the number of organic keywords for which the website was positioned in search engines. The count of organic keywords increased from 8,460 to 15,157 (79%), showing a substantial widening of the target audience reach. This meant the website appeared in search results for a wider range of relevant keywords, attracting a larger pool of potential customers and more clicks.

Improved Website Visibility & Rankings
The website's visibility in search engine results and its rankings showed notable improvements – the client's website was now more likely to appear higher in the search results for relevant keywords.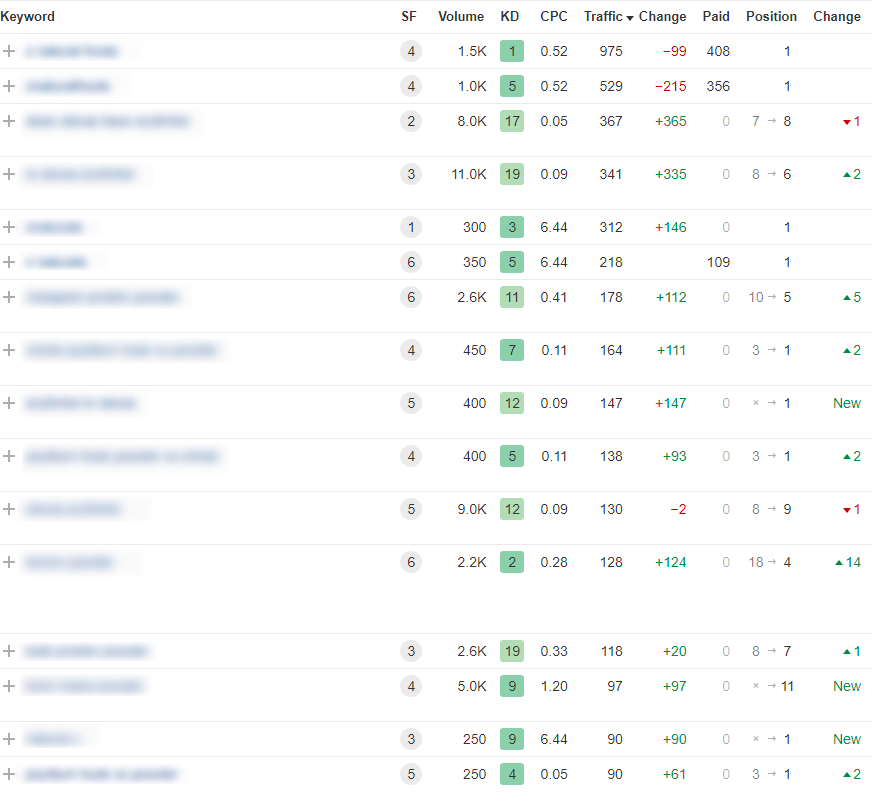 Backlinks
There has been a gradual increase in backlinks to the client's website, improving overall website visibility. That's because high-quality backlinks from authoritative sources make the website more credible in the eyes of search engines, leading to better rankings.

We continue to monitor the development of backlinks so that we can adapt our strategy for even greater results. This approach strengthens the website's position and attracts additional organic traffic, which makes our process not only effective but also sustainable in the long-term.
Final Words
Our team remains dedicated to working with the client, providing regular progress reports, and optimizing our strategy for continued growth. Our Full Stack SEO approach has proven effective in making our client more visible online, increasing organic traffic, and making them stand out in a sea of competitors.