Table of Contents
---
Is your business in a specific niche, and you don't know how to increase organic traffic?
No promises – only hard cold SEO RESULTS.
Check out this case – even we couldn't predict these stellar results!
Introduction
Our client is a guitar kill-switches distributor working with the US market. This is a unique, specific product, and expanding the potential customer base for it has its challenges. The client requested our help aiming to attract new targeted visitors to their website, increase organic traffic, and, consequently, sales.
Procedure
We started our work on this client's project with an in-depth technical audit during which we identified a number of problems that needed to be eliminated before the start of the next stages of work. Since the client's site is built on Shopify, we encountered typical issues of this CMS right away and outlined a number of recommendations to fix them.
Typical problems for this CMS are related to the following:
Directory URL Structure;
Internal Product Links;
Breadcrumbs;
Product Tags;
Blog Tags;
Vendor Collections;
Product Types Collections;
Default Robots.txt File;
Product Options.
Among other problems were:
Internal links to non-existent pages;
Overly heavy images that slowed down some pages' loading speed;
Incorrectly organized interlinking;
Mistakes in UX, such as overlapping elements in the menu on mobile devices and tablets, uninformative user notification of a successful subscription to an e-mail newsletter, etc.
Next, we started our work on the semantic core. Even though the client's semantic core was already well developed, at the time of the audit, we found additional growth points in the semantics that had not yet been worked out and offered the client to expand the content on existing pages.
Since the client niche contains a fairly large number of information requests, we decided not to miss this opportunity and outlined topics for future articles that will attract additional traffic.
We also worked on the link profile – examined the key competitors, and identified their main types of links, their number, quality, and overall dynamics.
General Competitor Comparison Table

Competitor link dynamics

The number of quality links from competitors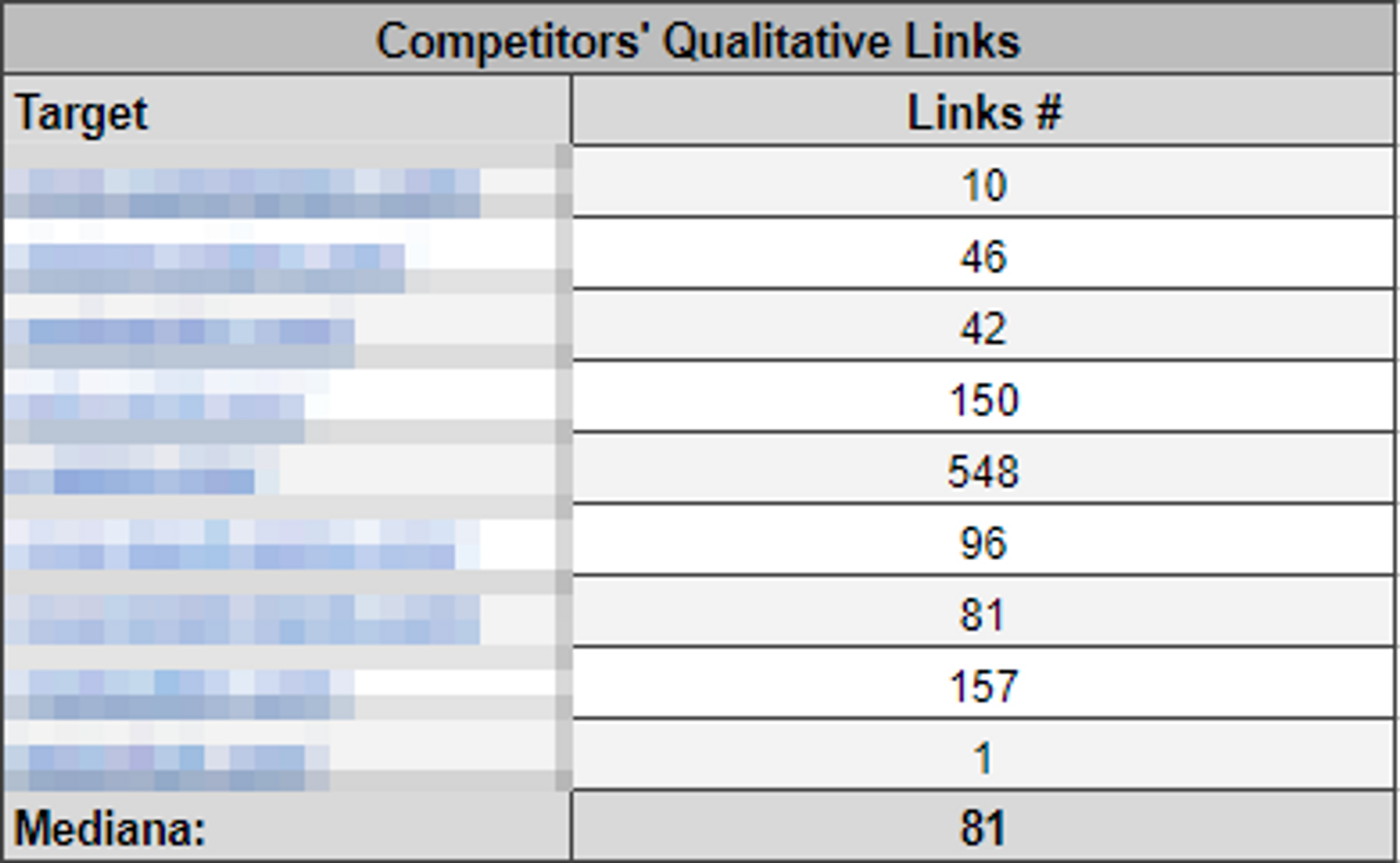 All this data allowed us to develop a comprehensive strategy for the gradual growth of the link profile. We decided to diversify it as much as possible by adding Crowdo links, links from active discussions to Quora and Reddit, and, of course, we used guest posting.
Results
During the 3 months of the developed SEO strategy's implementation, we have achieved an increase in organic traffic from 2000 to 4500 daily visitors for this client. We started working around July, and you can see our progress in the screenshots below:
Note: we won't be able to reveal our clients' keywords and domain names.
Take a look at the July 2022 data and current stats.
The general semantics comprised 1938 keywords:
182 keywords in the top 10
744 keywords in the top 30
1183 keywords in the top 50
As of now, the client's general semantics consists of 2289 keywords (an increase of 18%)
299 keywords in the top 10 – (64% increase)
987 keywords in the top 30 – (32% increase)
1477 keywords in the top 50 – (25% increase)
Here is a screenshot showing the growth of keywords: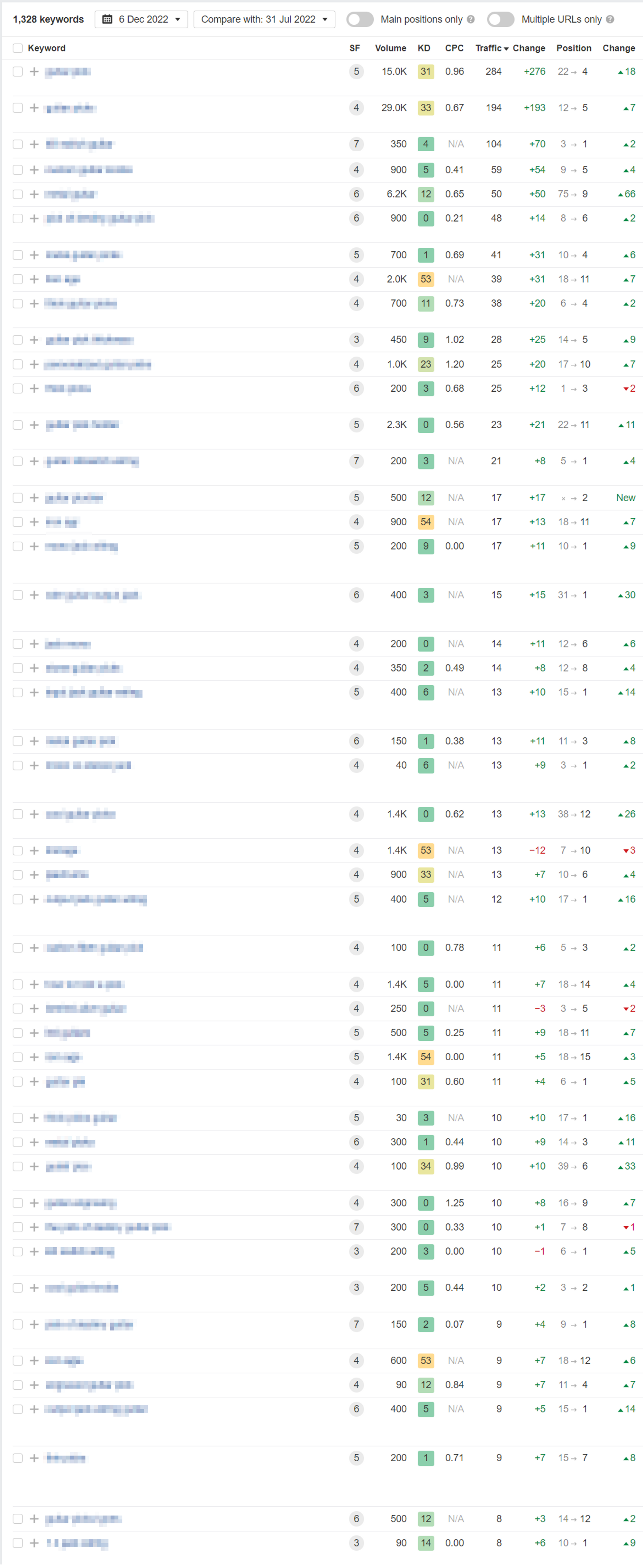 The overall increase in traffic is 97%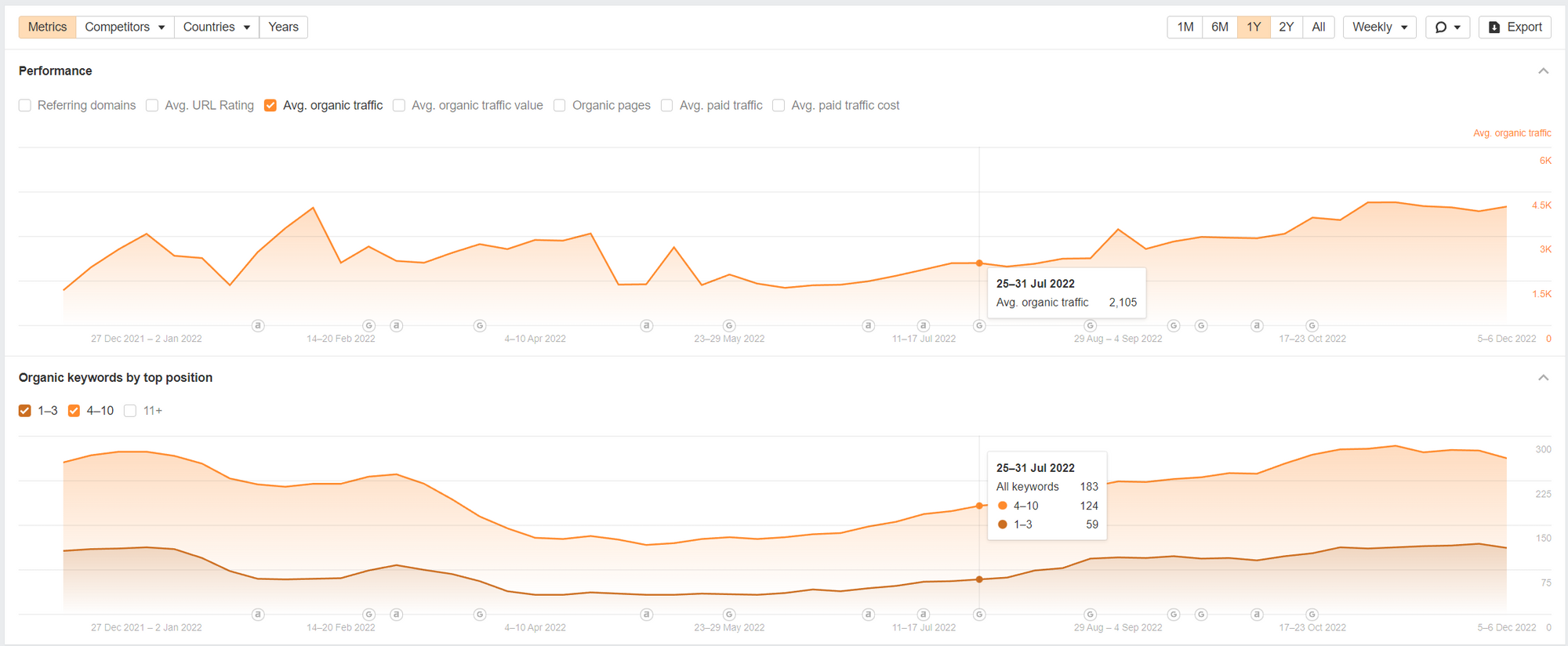 This client can show these impressive results even though the site is only entering the second promotion phase. The current dynamics comply with the plan we developed during the audit we accomplished for the client. According to the plan, it's strategically important to show smooth, positive dynamics (with monthly growth of 15% -20%) over the next 6 months.
We can already say that the final results will exceed this client's expectations listed in the plan.
Client Testimonial
David Guller, our client, has said the following:
"I was pleasantly surprised by the results I got with SEO Agency Crowdo. Our site received 2 times more organic traffic than usual. This is an amazing result, given that our product is specific to a certain audience. We are now getting 4,500 monthly visitors, and our organic traffic continues to grow. Of course, our sales have increased as well! Many thanks to the Crowdo team and SEO Experts who have been in constant contact with us."
Conclusion
This case confirms once again that one can achieve excellent results even in the most highly specialized niche by following our Complete SEO Strategy.
---
Want equally awesome results for your business?
Book a call with our SEO Expert. 👇SCHEDULE A CALL or submit a request for Full Stack Seo Service